Action films have typically been associated with men. When you hear 'Action Film' the first thing to pop up in your head is an alpha male, well trained with the guns, taking on goons. And most an actress has to do in a typical action film is to play the distressed damsel and if she be lucky enough, a sidekick.
What happens though when you grow up in a household where the only way to pass a Sunday is to watch an action film?  Your only preferred genre becomes action and everytime you watch one, you ask your father, 'Why isn't the girl kicking?' Even though most of the action films, even today feature male actors in meaty, kickass roles, there are some gems that have showed the world the wrath and the power of a woman. To make sure you don't miss on them, here are female powerpacked filmy gems of the world cinema:
Hunterwali
What happens when the values of the society are compromised, chaos and injustice prevails and no hope is left? Lo and behold! Hunterwali appears!
India's first action film surprisingly featured a female character who used her whip to set the world alright. Released in 1935, film starred Nadia Hunterwali as Princess Madhuri who fights the evil and injustice as the masked vigilante. An absolutely new concept at the time, it inspired a fad of similar films, namely Cyclewali, Chabukwali, Motorwali. This very film that attacks patriarchy in all its forms established Nadia as a feminist icon in the industry
Bandit Queen
One of the most controversial film in the Hindi film industry was another gem in female action films. The Shekhar Kapoor directorial was based on the life of dacoit Phoolan Devi who was played by Seema Biswas. The film won the National Film Award for Feature Film in Hindi, Filmfare Critics Award for Best Movie and Best Direction for that year. The film was premiered in the Directors' Fortnight section of the 1994 Cannes Film Festival, and was screened at the Edinburgh Film Festival. The film explores the journey of Phoolan Devi from a child bride to a dreaded dacoit.
Resident Evil series
Guns + Fantasy + Strong girl + Biological warfare. The combination is anything but interesting. Six films in the series offer complete action entertainment in the form of Mila Jovovich's character Alice who once a part of Umbrella Corporation, the organisation responsible for a zombie apocalypse and now fights against it. Alice fights, kicks, shoots and kills. All without flinching once.
Charlie's Angels series
Three girls, very intelligent, very smart in their respective fields and they work for Charlie. Starring Cameron Diaz, Drew Barrymore and Lucy Liu in the lead roles, the series was a visual treat. The second part, Full Throttle specially turns on the heat even more with Demi Moore as the stunning antagonist. Girl on girl action at its best, the series guarantees complete entertainment for an action buff.
Salt
Crispy storyline meets Angelina Jolie meets kickass action. What more could a mortal ask for? Released in 2010, it was easily one of Jolie's best action work who plays Evelyn Salt, a CIA agent who is suspected to be a Russian sleeper spy and goes on a run to clear her name. The most interesting part about this movie is that it was written for Tom Cruise and rewritten for Angelina Jolie. Despite the fact that all the action imagined was for a male character, Jolie did it extremely well.
Dead or Alive
Inspired from a game of the same name, Dead or Alive is about a competition for the best fighters in the world which attracts a Ninja princess, a master thief and assassin, a professional wrestler. Their fight though turns out to be with a greater evil force who wants to sell their moves to the buyers across the globe. The film features excellent shots of insane fight sequences between the contestants.
Mardani
Rani Mukherji's comeback film was something very different from a role ever taken up by any Bollywood actress. Not only it had a very colloquial feel to the character but it also had great fight sequences between Rani and the antagonist played by newcomer Taahir Bhasin. Based on the story of a police officer busting a sexual racket, the movie garnered rave reviews from both the critiques as well the audience for the strong plot and direction. This Pradeep Sarkar directorial is a must watch for anyone with an interest in good films.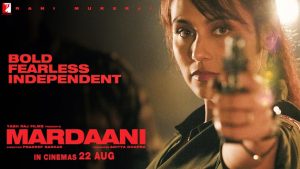 Merceneries
What happens when you pitch CIA recruited 4 deadliest and stealthiest convicts in America against a female warlord in Kazakhstan?
Even though the film was written off by critics, this Expendables mockbuster featured gruesome action sequences between the two groups. Though it has human angles thrown in, the focus remains on the conflict. For the uninitiated, there are guns, rocket launchers, knives, in every hand in the film and the occasional sighting of bigger machines like tanks and missiles is another visual delight. Even though weaker on the storyline, the film packs punch when it comes to action.
Lara Croft
The Tomb Raider series: Another of Angelina Jolie's kickass work includes this alive series. Another film on our list which was inspired from an action game, it's one of the highest grossing films. Despite getting extremely negative reviews for its bland plot, amazing action sequences worked magic for the series. It even got nominated for Best Fight Scene and Best Female Performance at the 2001 MTV Movie Awards. A must watch for anyone into women playing around with guns.
Jai Gangajal
Recently released film marks a change in how Bollywood today, views its female actors. Starring Priyanka Quantico Chopra as the honest SP of an extremely corrupt and exploited town in Bihar, Prakash Jha's directorial has power packed action sequences. The film also marked his entry as an actor in the industry. Both him and Priyanka had a lot to do in this film regarding both the storyline as well as the action. And to see a commercial actress in role like this definitely is a promise that this list could grow much longer in the time to come.