Bollywood has been a little on the slower side when it comes to competing with its American counterpart. Be it attempting sci-fi genre or zombie genre movies or even making sequels. Even when they started making sequels, most of them didn't really survive at the box office. The idea really wasn't a pleasing one until 2006, when four major hits (Lage Raho Munnabhai, Krishh, Phir Hera Pheri, Dhoom 2) were sequels and all of a sudden we got a line-up of successful movie sequels and the list has gone bigger as the years have passed by. And we have also got a much bigger list of unsuccessful sequels. In this section, we will be focusing on the unsuccessful ones. Here's the first list of the series.
1. Nigahen
Released in 1989, three years after the successful 'Nagina', it is considered as bollywood's first ever sequel of a movie. It starred Sri Devi and Sunny Deol as protagonists. Anupam Kher as an evil sorcerer didn't really made any impact compared to performance of Amrish Puri of Nagina. Sri Devi and Sunny Deol didn't really tamed audiences. There wasn't really anything new to offer in this movie. Harmesh Malhotra's ambitious attempt didn't really work with Indian audiences who were new to the concept of sequels.
2. Hathyar
Mahesh Manjrekar made a promising attempt at revising the characters of Vaastav but nobody gave a damn. Sanjay Dutt tried playing his own son and Shilpa Shetty as his love interest. The character of Rohit didn't really help the movie in any way. People still remember Vaastav as a landmark as far as underworld based movies are concerned but don't really bother to think of Hathyar as the sequel.
3. Double Dhamaal
Indra Kumar tried reprising the stupendous success of 'Dhamaal' but actually made a collection of lame jokes which the audience didn't tolerate a bit. The tit for tat kind of story had characters and situations which were really out of the world. Ritesh Deshmukh, Arshad Warsi , Sanjay Dutt and others gave a horrifying experience to the people. What was really shocking that they had the confidence of pulling it off.
4. Bheja Fry 2
Vinay Pathak became popular with the irritating and honest character of 'Bharat Bhushan' in 'Bheja Fry'. His success was such that many small budget movies became successful just for the fact that he had his presence in those movies. But the sequel bombed at the box office even when it had the presence of Kay Kay Menon. The story was never at place and wasn't able to entertain the audience as they had hoped for.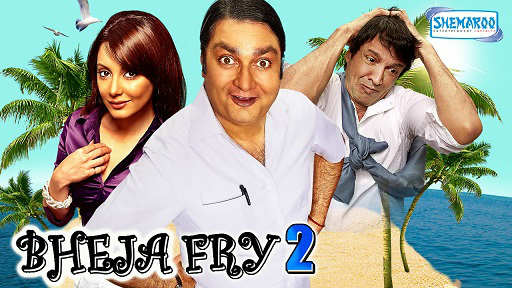 5. Shaadi ke Side Effects
Rahul Bose and Mallika Sherawat gave the performances of their lives in Pyaar ke Side Effects. But it was probably due to the direction of the movie otherwise how the talented Jodi of Farhan Akhtar and Vidya Balan can make a disaster which nobody even cares to remember. The movie wasn't even a bit comedy when compared to its prequel. Maybe the makers took the concept of marriage too seriously.