Deadpool, the movie which changed the mentality of people about superhero movies had it's sequel Deadpool 2 released on 18 May 2018. Having lots of expectation from the movie to be more active, more badass and filled with dirty humour. This movie almost stands on the expectations.
The movie has everything filled in it. It is grosser, bolder and even funnier than the last. Being most of the time on screen, Ryan Reynolds effortlessly brings Deadpool to life once again. It doesn't even go with the basic superhero movies as in this movie wade Wilson a.k.a Deadpool is not trying to save the world rather somehow he is trying to save himself.
After being Deadpool for almost two years, Wade Wilson fails to kill one of his targets on his anniversary. Later that target tracks Wade down and in an attempt to kill Wade, he ends up killing Vanessa, Wade's girlfriend. Wade kills the man in revenge but also held himself responsible for Vanessa's death and attempts to commit suicide by blowing himself up under heavy explosive but since he has healing factor he failed at that and his body parts were put together by Colossus. Recovering at X-men mansion, Wade agrees to join the X-Men as a part of healing and moving forward in life. As his first mission, along with Colossus and Negasonic teenage warhead respond to a fight between Russell Collins/ firefist and the authorities. When wade kills one of the staff members who had abused but as a result of his actions Wade was arrested. Restrained with the collars that suppress mutant powers, Deadpool and Russell Collins were taken to the icebox. The ice box is a prison specially designed to keep mutants. Here every mutant wears a collar known as mutant inhibitor collar which restrains them from using their powers. Meanwhile a cybernetic soldier from the future, Cable travels back in time whose family is murdered by older Collins in the future. He travels back in time in order to stop Collins from becoming a criminal and to save his family.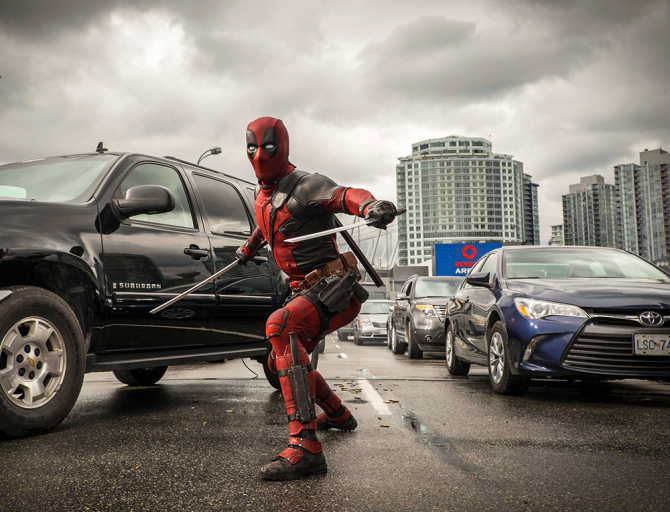 Wilson in order to help Collins ( because he thinks cable's intentions are evil) recruit a team of misfit mutant named X- Force. The team launches an assault on the convoy which was carrying Russell and other mutant by parachuting from the plane but except domino and Deadpool no one else survived.
After a long battle, Cable and Deadpool made a deal that if Deadpool was not able to change Russell mindset, Cable would kill Russell. When Deadpool fails to do so cable shoots at the young mutant. Wilson leaps in front of the bullet while wearing the mutant inhibitor collar and dies . Making the ultimate sacrifice for Collins which made him change his mind and hence Cable's family survives . Cable uses the last charge of his time travelling device which he needed to go back to his family to revive Wade. Collins still has a change of his heart and the headmaster the one Russell wanted to kill was ultimately killed by dopinder ( Deadpool's cab driver ) when he ran his taxi over him.
In the mid credits scene of this movie, Negasonic Teenage Warhead and her girlfriend Yukio repair Cable's time travelling device and gives it to Wade who in turn uses it to save his girlfriend Vanessa and the X-force member Peter. He also uses this device to kill the Deadpool version of X men origins Wolverine and Ryan Reynolds while reading the script of green lantern.
Director David leech was able to bring a wonderful characterization of almost every character in the film especially that of the lucky domino and of Deadpool but in the case of cable he failed. David leech was not able to do justice to the character of cable. Fans were not able to explore cable motive and his nightmare ( death of his family) more vividly and widely as what we are getting in the movie are just two freking scenes.
The soundtrack of the movie is nice. It is well suited and used as per the demand of the scene.Deadpool eventually gains momentum and draws its conclusion towards a trade tribunal final .With rest of movie which is fairly smooth, character focused and had an emotional ending.
The references and mocking of both marvel and dc alongwith the dirty jokes he played in addition with action scenes makes him a more lovable character to the audience.
Although running short in terms of script and plot and not being able to do justice to characters like cable. This movie is a full time gag which makes you laugh until your stomach hurts also this is not family movie as which Deadpool said in the starting of this movie as according to Deadpool family is a F – word.