Winner of two National awards, seven FilmFare awards, a Grammy nominated genius and rightly hailed as the 'The Nightingale Of Asia' by the Indo-Pak Association- Asha Bhosle is a force to be reckoned with. Celebrating her 84th birthday- while still giving enchanting and mesmerizing performances Ashaji continues to be an inspiration across the globe.
Starting her career in 1943 to mediocre success, Asha Bhosle found enormous success after a duet with Mohammad Rafi- 'Nanhe Munne Bache' – a sweet song about one's control over one's destiny and sung with a brilliant charm capturing the innocence of childhood. After that Bhosle's list of hits continued to flourish whether it be the powerhouse 'Dum Maro Dum' or the dance jazz-'Piya Aab Toh Aaja'. Collaborating with almost every phenomenal music director from her late-husband R.D Burman to A.R Rahman, Ashaji's voice found a mix with everyone.
Interestingly Ashaji chose to voice the so called 'bad girls' or 'femme fatales' whom other prominent voices had refused to lent a voice to. As a result her song 'Piya Tu Ab To Aaja'- a cabaret item number revolving Helen is still regarded as one of the most culturally important song of Indian music history.
Apart from mainstream Bollywood career, her voice has composed many excellent ghazals, bhajans and soul music. Inspired by her contribution to music, the British band 'Cornershop' released their single 'Brimful Of Asha' which proved to be a roaring international success. Her peppy tone also led to a collaboration with Australian cricketer Brett Lee in a song called as 'You're the One for me' about a foreign guy looking to impress a girl leading to a feel-good melody. She recently made her acting debut in the Marathi film 'Mai' where her performance received extremely positive reviews. Guess Asha Bhosle is a term synonymous with multi-talented!
If this wasn't enough Ashaji holds jaw-dropping achievement for recording over 11,000 solos, duets and in over 20 languages securing her a place in the Guinness Book Of World Record as the most recorded artist in the world.
Apart from her breezy performance and worldwide appeal, Ashaji is known for her zeal for work and humble temperament. Music director O.P Nayyar with whom Asha largely collaborated said of her-
"" I can say that the most important person in my life was Asha Bhosle. She was the best person I ever met."
With a career that has spawned over seven decades and still continues to flourish with worldwide tours and performances, Asha Bhosle with her memorable voice is still and will always be a pride for India –always inspiring the young singers of the country with  perfection and devotion towards her work.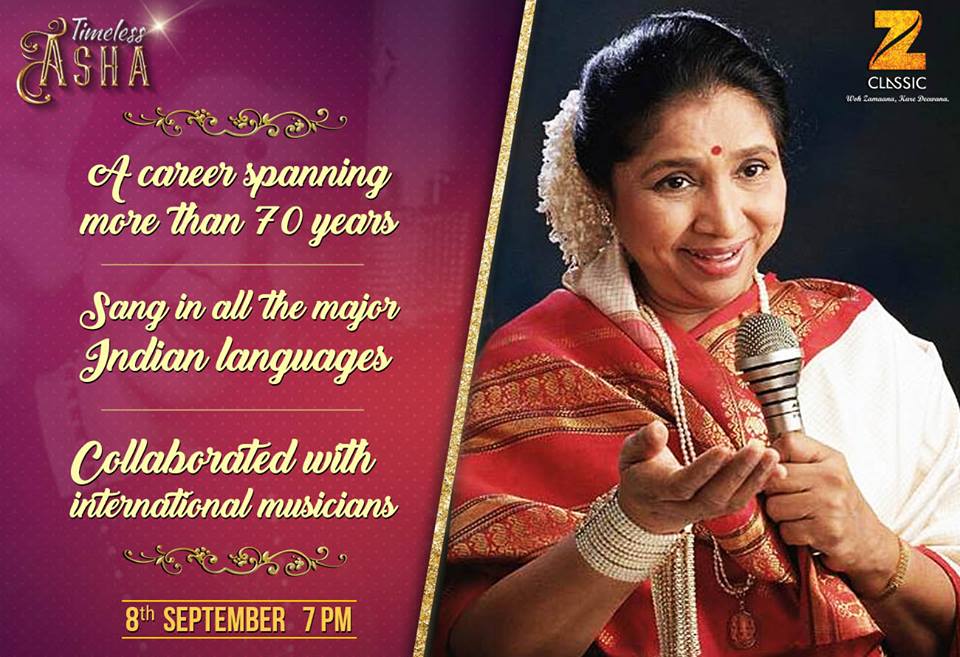 Celebrate her 84th birthday with Zee Classic
Zee Classic, with its brand proposition 'Woh Zamaana Kare Deewana' celebrates the musical queen's 84th birthday celebration with an unforgettable concert called 'Timeless Asha' on Friday, 8th September at 7 PM. Watch the promo here.
Terrance Lewis and the stunning Radhika Apte sizzling couple dance performance.Urmila Matondkar sets the stage on fire performing to a Ganesh Aarti. The gorgeous and very talented Lauren Gottlieb dances to scintillating tunes and presents an esteemed tribute to Asha tai. Master of slow motion dance – Raghav and Pronita, Bhumi Pednekar in an all new slim avatar and Shakti Mohan also orchestrate spectacular performances. Grown up listening to the legend, versatile singers Monali Thakur and Antara Mitra pay an exclusive homage to Ashaji with a perfect mix of songs.