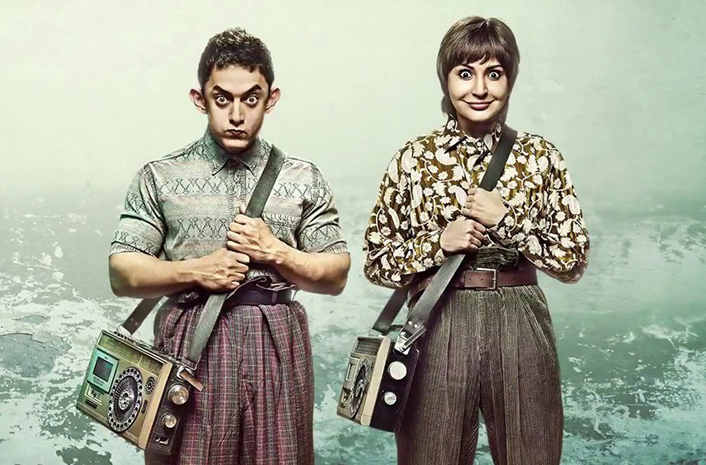 Hitting theaters on December 19th. With X-Mas and the New Year holidays along with social message from Rajkumar Hirani movie. His movies are mostly a family entertainer which also includes both the classes and the masses. With all these things rolled in together, PK is surely going to hit the bull's eye. P.K. starring Aamir Khan, Anushka Sharma, Boman Irani, Saurabh Shukla, Sushant Singh Rajput and Sanjay Dutt.
The next awaited film of perfectionist excitement can be witnessed with its advance booking status. The pre-booking counter for "P.K." opened on Monday and within 24 hours, it got a phenomenal response.
Meanwhile, "P.K." has generated a lot of hype due to its unique promotional event. The first poster of the film, featuring naked Aamir holding a transistor, managed to grab audience attention.
The makers plan of not revealing the storyline has also garnered a lot of curiosity. As far known, Aamir Khan plays an alien who lands on earth in search of God, hoping he can then learn how to save his own planet. While on this quest, he, as per reports, happens upon a prostitute (Anushka Sharma) and together they are able to change the way people think about God.
The leaked photos from the sets that show Aamir wearing a skirt, and standing in the buff (on the poster) all support the fact that he plays an alien who has no notion of clothes or the fact that there are men and women dress differently, adds the report.
Reportedly, the film's plot was quite similar to that of OMG! Oh My God, and had to be rewritten.
Why Peekay is P.K.?

Motion poster to be used as new market Startegy The first. motion poster was also released and poster sparked a controversy as it featured Aamir Khan posing almost nude with only a transistor .The poster was criticized for llegedly promoting obscenity. A PIL was filed in the court by the All India Human Rights and Social Justice Front to ban the release of the film. The Supreme Court dismissed the plea and gave the movie a green signal.There were also allegations on the poster being copied. from the poster of a Portuguese musician named Quim Barreiros .
Sanjay Dutt can be seen as Bhairav Singh in third motion poster.
The fourth motion poster released on YouTube Anushka Sharma can be seen as Jagat Janani along with Aamir Khan.  Aamir Khan stated that P.K. will have a poster campaign in which a new poster will be introduced every two to three weeks. By the time the movie releases, 8 to 10 posters will be launched.
P.K. which is going to enjoy a massive 6000 screens all over. The screen count is similar to 'Happy New Year' and Salman Khan's 'Kick' had earlier this year but it's all.The box office figures and screen counts are just the numbers for the three biggest Khan of Bollywood
but it's all together a different game for P.K.
Now what's different for Aamir Khan's P.K. Well, we don't need to ponder much over the fact that its Mr Perfectionist movie who has a record of setting new benchmark when it comes to release in December.The same was the time of December and it was 3 Idiots which gave box office the first Rs 200 cr movie.
With goodie-goodie things happening around P.K. we expect the movie will set a new benchmark. So, just let's wait and watch.