The cold gaze of Claire Underwood (Robin Wright) specifically down the camera close by her President spouse toward the finish of House of Cards season four may have appeared like an intense prelude to future occasions, yet six episodes into the fifth makes it worth the wait.
As season five of the show gets in progress Frank Underwood is running for re-election, while attempting to cover a messy past that incorporates budgetary shenanigans and bumping off a pesky journalist.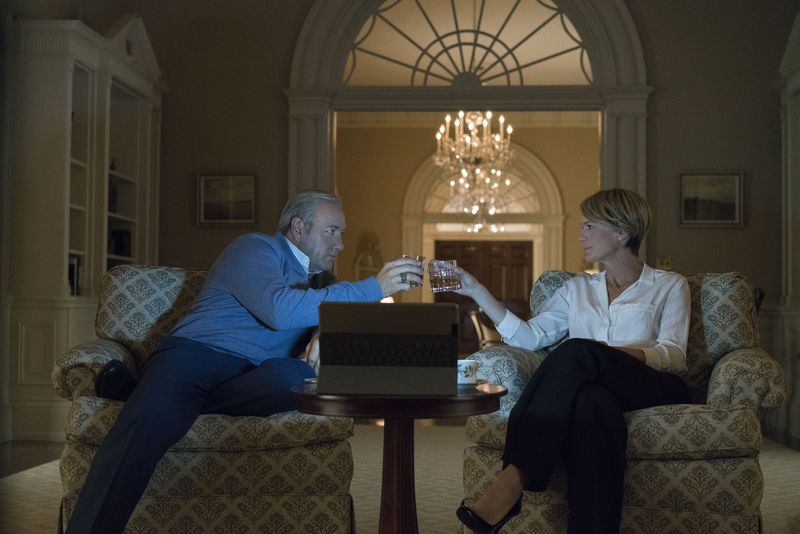 Straight to the point (Kevin Spacey) may at present be in power yet he's teetering on the edge of disaster taking after the expanding ubiquity of groveling Republican adversary Will Conway (Joel Kinnaman). With the general population's bolster fading, Frank feeds the blazes of disarray, taking up arms with terrorist group ICO in an offer to make fear and hold his administration.
Forthright's expanding villainy is plainly giving Spacey bliss – his asides to the camera this season have been raised into out and out monologues. Their infusion of experience sees him waltz around a swarmed room on numerous events, separating a composition substantial scene that would be challenging to expend in whatever other way.
The dread stems from last season's closure that saw the nation made a beeline for an exorbitant and risky new War on Terror, similarly as the race between the Underwoods and Joel Kinnaman's homegrown presidential hopeful Will Conway had started to warm up impressively. It was the embodiment of House of Cards endeavoring to mix the two things that it never entirely figured out how to cajole into a fruitful intermixing in three past seasons: legislative issues and watching Frank Underwood play chess with his enemies, through a progression of progressively expound takeoffs from any kind of authenticity. With each passing season, the show's endeavors to stay grounded, even while the Underwoods encouraged the monster that is their political aspirations, became less persuading. That was then intensified by over-long seasons inclined to what has turned out to be known as gushing float, wherein a tedious progression of plans planned to keep the Underwood's in power fill the time until things at last get fascinating close to the season's end.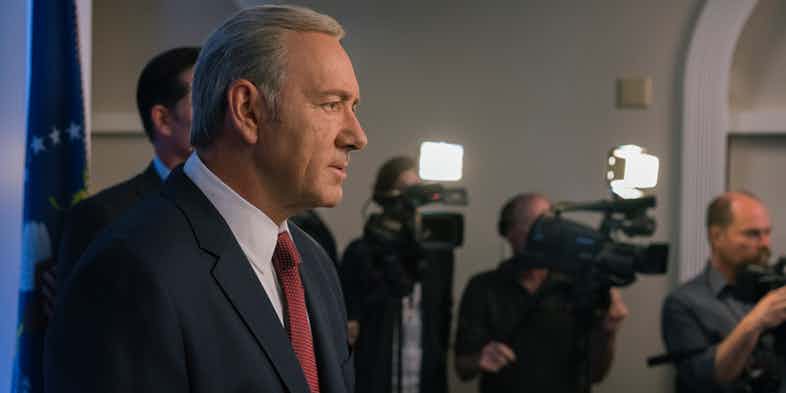 At this point, the way in which House of Cards' season-long stories unfurl is as straightforward to the gathering of people as Frank's goals – even without all the sneering at the camera and the protracted asides clarifying everything that is going on – so an early difficulty in the Underwoods' mission for power isn't a shock; actually, given what crowds think about the structure of any given period of the arrangement, it could barely be viewed as a spoiler. Rather, the aftereffects of the race could have been a pitching point to reinvigorate gatherings of people's enthusiasm for the arrangement after four periods of watching Frank get all that he needs by outflanking the one-dimensional rivals he's hollowed against. Be that as it may, similar to Conway's profound, dull mystery, Frank and Claire's obstacle rings empty; it's simply one more long con.
Michael Kelly's once-enchanting associate Doug Stamper fumbles around the screen as just Frank's support – same contrast for Neve Campbell's returning Leann Harvey.
Regardless of whether Claire's laying cold smack downs to anybody darkening her Vice-Presidency crusade or criticizing beau Tom Yates (Paul Sparks), her move into House of Cards' doubtful primary character grabs speed with each new scene.
Frank Underwood is coming to India with the television premiere of House Of Cards Season 5 on Saturday, 3rd June, 5 PM onwards, only on Zee Café! #HOConZCafe