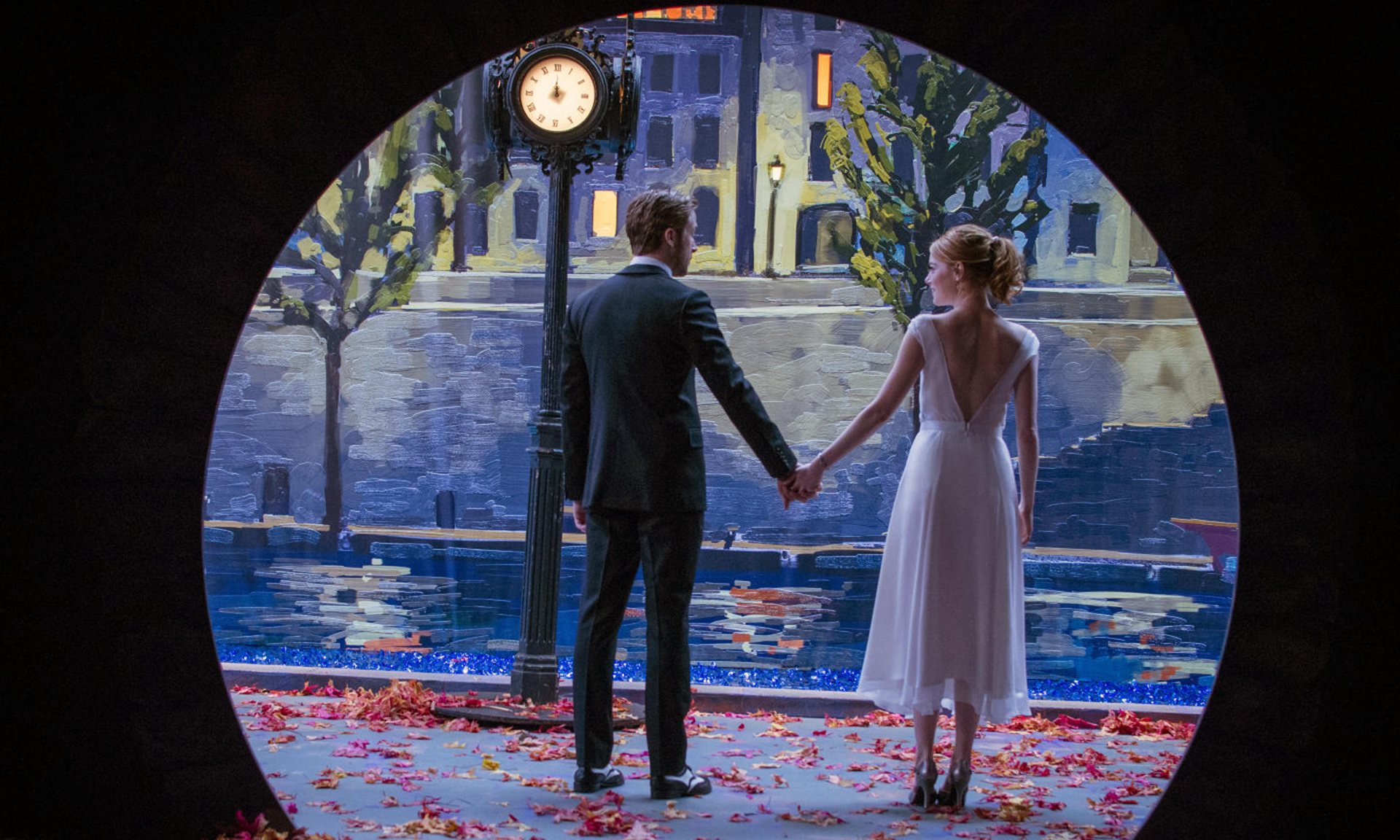 How many times have you called 'pass' on the idea of watching a 'musical' film? Quite a generous number of times, right? Because, come on, it ain't the 1960's and Hollywood definitely doesn't produce Julie Andrews and Gene Kelly anymore. Also, the idea of sitting through a long affair of overpowering use of colours, props and a song list lengthier than the cast is enough to make you hit the exit button. At least, these were the exact, clichéd presumptions with which I entered the theatre to catch 'La La Land', only to be coming out with an absolutely contrasting yet an indescribably satisfying feeling. Because sometimes, only the transcending artistry of cinema can prove you wrong, in such a surprisingly beautiful way.
Director Damien Chazelle, who won over the audience and critics alike with his 2014 debut directorial, Whiplash, that had J.K Simmons so obsessed with getting the tempo right, does hit the right 'tempo' again with his second. La La Land is a film that combines love, ambition, despair, music and realism in a magical mix and leaves you craving for more. This Emma Stone-Ryan Gosling starrer adds a whole different seasoning to the genre of romance we are adapted to seeing on the big screen and stands out for the very reasons that a typical musical doesn't. An inseparable charm cloaks the film throughout its two hours runtime and that becomes evident time and again through the mesmeric performances by its two leads, the little nuances of their characters, the profundity of the songs and the incredible captures of Los Angeles in its mild city lights.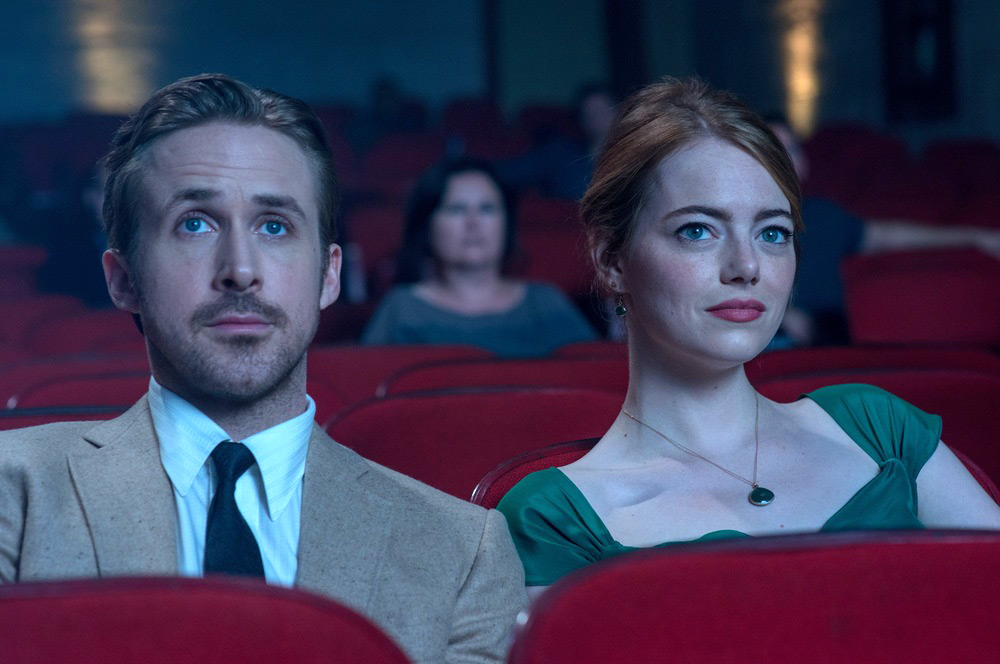 The winner of a record number of 7 Golden Globes, La La Land follows the lives of two struggling wannabes- Sebastian (played by Gosling) and Mia (Stone), as they strive to find their way in the gargantuan realm of Hollywood. Sebastian is an ambitious Jazz pianist who, in his lone pursuit of saving jazz music from extinction, finds himself confined between his dreams and worldly rejection. And then there's Mia, a young, talented and aspiring actress whose life shuffles between failed auditions and her tedious work shifts at a coffee shop in the Warner Bros studios. Their lives, so brimming with the tireless hope for a brighter tomorrow, takes an unexpected turn when they bump into each other and let love take the lead. The drama and the romance unfolds in a breathtakingly magical way as the film continues to depict the highs and lows in the lives of the two lovers. Now there's no denying, that Hollywood unswervingly loves a movie about Hollywood, but what actually works for this film is the unmistakable passion and honesty with which it is made. Not for a moment does it appear to be anything other than Mia and Seb's story, which is as common as it is extraordinary. It never seems to overwhelm you with dramatic twists and forced conflict, but rather soothes your senses with all its relatable emotions.
The biggest reason why this musical soars so high is undoubtedly, the incredible performances by both Emma Stone and Ryan Gosling in the lead. They take on to their roles with grace and conviction and make it their own. It shouldn't sound a reach to say that both the actors, who many thought were made for 'typical, formulaic Hollywood rom-coms', render the best performances of their respective careers till date. Whether it's the dove-eyed Emma in her glistening yellow dress, singing and twirling under the purple-dyed LA sky, or the hypnotic charm of Gosling when he plays "City of Stars" on the piano- in every frame, these two gorgeous beings are bound to sway your heart away. Gosling seems effortlessly conversant in playing the soft-spoken, zealous and traditionalist Sebastian that should further escalate your eternal crush on him.
However, it is the ever-enigmatic and dynamic Emma Stone who steals the cookie away as the exuberant but vulnerable Mia. Stone speaks with her eyes and revolts with her voice. From beaming at the sight of her lover, screaming her frustrations out, to pouring all her agony into singing "The Fools who dream"– she illustrates Mia's passion, joy and devastation – all in a way so convincing that you can't seem to separate her from the character even for once. Gosling and Emma together makes La La Land a film that stays with you. And the thing you would take home the most from it, is their enviously breathtaking chemistry. Despite starring together in earlier films like Crazy Stupid Love and Gangster Squad, it seems as if both of them were destined for a film like this, so that they could set some serious #relationshipgoals for all the hopeless romantics out there. As Mia and Seb, they make you wanna root for 'love' a tad more, miss your high school crushes a bit more and sing your feels out a little louder.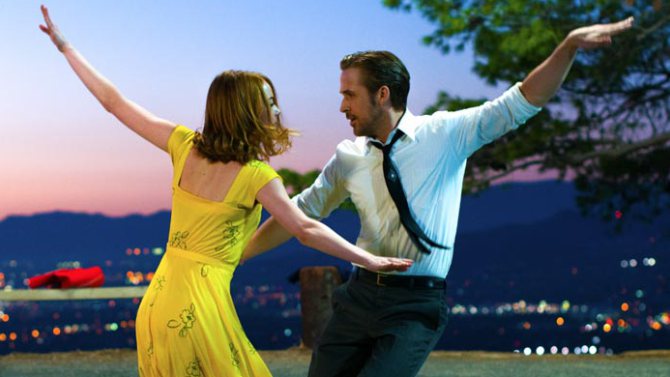 Out of the many superior adjectives that should be reserved for La la Land, one should undoubtedly be the word "brave". It is nothing but brave on the part of Chazelle to direct his very second that is so different in content and approach from "Whiplash" or to even trust an entire film solely on the two leads without the supporting cast having much to do. And it is this bravado of his that positions this musical closest to being a masterpiece.
From direction, songs, choreography to cinematography, the film encompasses a fascinating fluidity throughout its entire run time. It flows like time, with the right measure of grandeur and subtlety. It never appears to be a film with a well-defined beginning and end but rather feels like a continuing series of randomly ripped pages of diary entries from our everyday lives, that makes you wonder how could a story so mundane could be filmed with such poise and magnificence. The ecstasy, the misery and the spirit that the film captures, are the ones all of us wake up with every day. The music of the film too, is retrospective of the emotions and dilemma that are our very own. Whether it's Gosling "City of Stars", or Stone's goosebumps-evoking Audition Song "The Fools who dream", it touches those 'fools' in our hearts who never fail to dream amidst all wretchedness, who intensely try to save those very quintessential dreams from going to extinction and those who have a hard time making their traditionalist selves survive, when the world moves in fast forward. So even though it brings back all the feels from old-school musicals, what La La Land really pays tribute to, is those fools in all of us- the fools who dare to dream. Like Sebastian exclaims in the film, "This is the dream! It's conflict and it's compromise, and it's very, very exciting!"
This one demands to be seen and treasured for life. So go experience this magical extravaganza if you haven't already. It's worth 'singing it's praises' for- quite literally!