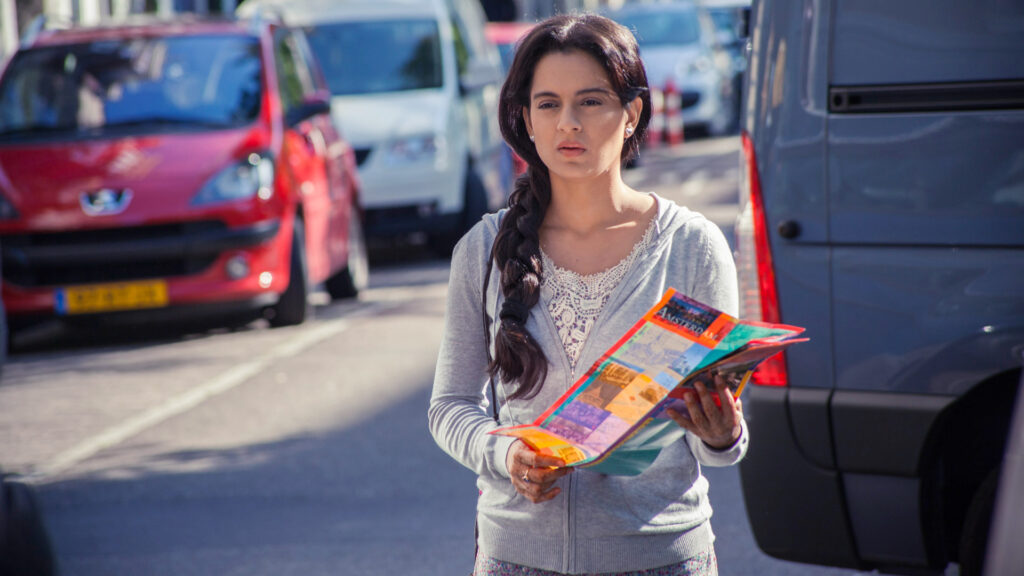 Kangana Ranaut who is known to attract controversy or rather create them has been at the receiving end of it all. The actress has been receiving a galore of negativity digitally. Seem's like Kangana's many lies have been haunting her as the audience is not in the mood to take anymore. Recently Kangana's passport went viral revealing her actual age. Followed by which she was largely shamed and trolled on social media. #QueenOfLies had been trending over the last weekend on Twitter calling Kangana's many lies. The actress was also referred in lines of Sonia Gandhi and Barkha Dutt who are accused of lying. A series of Kangana's publicly spoken Lies have also been a talking point amongst the digital janta. Here are a number of Lies spoken by Kangana time and again publicly which caused a furrow in the digital space.
Not 29 but 31! – The actress, who reportedly celebrated her 29th birthday in March this year, has, in fact completed 30 and is going on 31. The actress is not in her 20s but in her 30s, according to her passport which shows that she was born in 1986. Not that it matters. She is in good company. She is in the industry at a time when actresses in their 30s are still considered for leading lady roles. So, why the little white lies?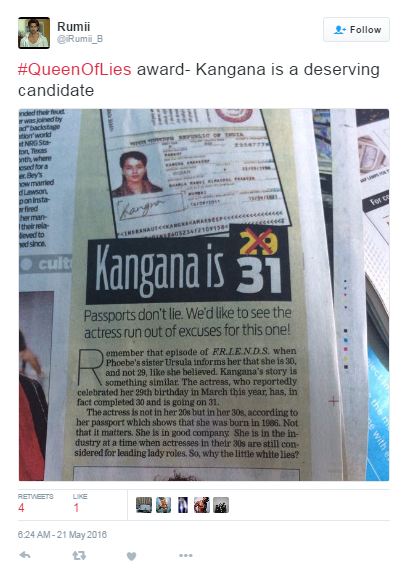 Highest paid actress – 
She has mastered the art of floating a  rumour and repeating it so much that it becomes an accepted myth. Last year she floated a rumour of being highest paid actress in Bollywood. Reportedly 11 crores was paid to her for some film. Which film ? The answer kept being more and more vague. She is only doing Rangoon now and for which is paid in the range of 3 crores. It's well known fact that Deepika is the leading actress in Bollywood and commands the highest fees in films as well as brand endorsements. This is a variable fact. She has been using the line 'highest paid actress' in all her communication and making tall claims that she has received 11 crs. Kangana is currently doing Rangoon and has no other film lined up post it. Then who is paying her 11 crores?
Film with Raj Kumar Hirani – 
Kangana takes flights of imagination. And her film with Rajkumar Hirani is nothing but that… People who know Rajkumar Hirani say there is no truth… they haven't even spoken about a film or any character. He is busy with his next film.
Kareena's her best friend – Kangana is a social climber and how! First she gets herself invited to Kareena and Saif's party and then the next thing you known there is news in all papers how she is best friends with Kareena. People who know Kareena say she doesn't make friends so easily and Kangana is definitely not her friend.
Paris proposal – Once again Kangana has made claims of Hrithik proposing to her in Paris in January 2014. Such a big lie! If he proposed to her then how come till October 2014 in her emails she repeatedly kept saying when we would meet, interact and engage. Which only means they have never ever interacted on a personal level!!
Intimate picture – Kangana zoomed into a public party picture and gave it to media as proof for the 7 year relationship that she claims to have had with Hrithik. What a sham! The picture today tells a very different story. If claims of Kangana are to be believed then where is the proof?
These series of Lies are proof enough that Kangana does not only speak lies but is also a spinner of facts into lies for her best interest. With such facts coming to light, Kangana does appear to be an obsessive Liar of a kind.