People often say that how can they make three movies out of a single novel (The Hobbit) but they often forget that Jerry Bruckheimer made five movies out of a Disney theme park ride. With four movies already been released and the next slated for release in 2017, Pirates of the Caribbean franchise is among the very few series which successfully released one part after the other and all were major box office hits. Set in a fictional ancient time, the whole series revolves around the thrilling episodes of Captain Jack Sparrow, played by none other than Johnny Depp.
The Curse of The Black Pearl (2003):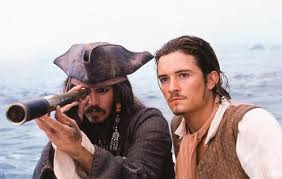 Directed by Gore Verbinski, "The Curse of The Black Pearl" is the first part of this series. Owing to the fact that movies of this genre did not do very well at the box office, this movie was expected to be a failure. However, breaking all norms, it collected approximately $47,000,000 in the very first weekend. It did not stop here and went on to become the third highest box office collection film of the year 2003.
The movie opens with Elizabeth Swan on a ship fantasising about pirates and saving Will Turner. While they grow up and eventually fall in love, enter Captain Jack Sparrow whose witty dialogues take everyone by surprise. He wants to take revenge against an UNDEAD pirate named Barbossa who left him alone on an island and also captured his ship called the Black Pearl. Elizabeth is captured by Barbossa as she has the last piece of Aztec Gold. Will Turner and Jack team up to save her and defeat Barbossa.
Dead Man's Chest (2006):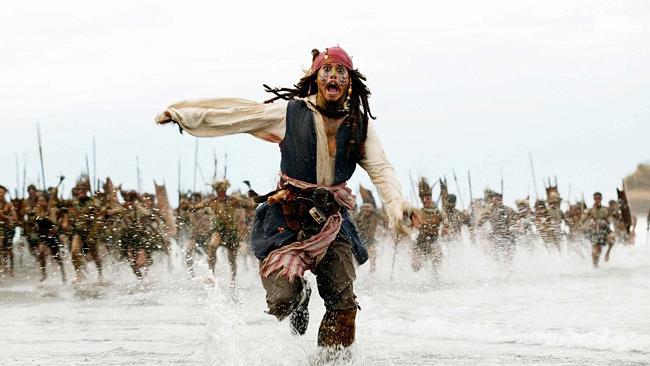 Also directed by Gore Verbinski, "Dead Man's Chest" is the second part of this series. After the success of the first movie, expectations from this movie were raised and fortunately enough, it met all of them. It collected a wooping amount of $1,066,179,725 worldwide. It became the highest collector at the box office in the year 2006 and the fourteenth highest collector ever, worldwide. It is the third ever film to cross the mark of $1 billion.
The story of this movie picks up from where the first one ended. East India Company's head, Lord Cutler Beckett arrests Will and Elizabeth for helping Jack in his endeavours. However, Beckett wants to gain control over the seas by finding the Dead Man's Chest which contains the heart of Davy Jones. Thus, Beckett offers a deal to Will that he would free them if he gets Jack's compass for him. Jack, on the other hand wants the chest too because he wants to get out of a debt. Davy raised his ship and made him the captain on the condition that he would serve on Jones' ship for a hundred years.
At World's End (2007):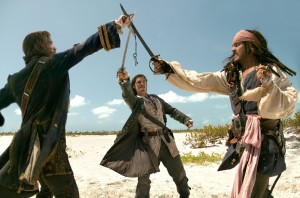 The third movie in the series was also directed by Gore Verbinski. "At World's End" had a total worldwide box office earning of $963,420,425 which was less than it's predecessor. However, it still became the highest grosser of the year 2007 and worldwide, it became the 26th highest grosser of all time. On the very first weekend, it collected an appproximate amount of $344 million.
Also Read –  The Trilogy of Greatness
In continuation with the previous film, Lord Beckett defeats Davy Jones and with Davy's ship, "The Flying Dutchman", he intends to remove piracy from its roots. Barbossa, Elizabeth and Will are against the East India Company and decide to save Jack from Davy's Locker because he is one of the former Nine Pirate Lords and is essential to call upon a Goddess who has the power to fight against Beckett and his men.
On Stranger Tides (2011):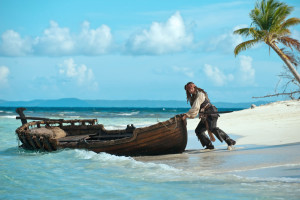 The fourth movie in this franchise, "On Stranger Tides" was also directed by Gore Verbinski. On its very first weekend, it had a box office collection of about $350.6 million which was more than the third movie. It had a worldwide collection of $1,046,713,805 and this also surpassed "At World's End". It went on to become the 16th highest grosser worldwide and third highest grosser of the year 2011.
Captain Jack Sparrow, runs into his former beloved, Angelica while in search of "Fountain Of Youth". She compels him to get on Queen Anne's Revenge, captained by Blackbeard, another pirate and her father. They also want to find the Fountain Of Youth as according to a prophecy, Blackbeard would die because of a one legged man. While on their hunt, they also cross paths with Barbossa who wants to get the Fountain before the Spanish.