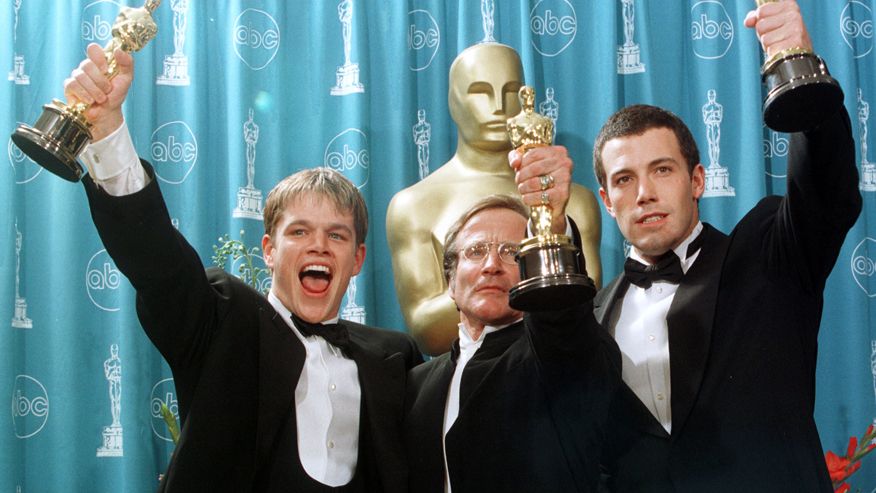 It's now been more than a week since the death of Robin Williams. RIP, incredibly funny man! It's almost ironical how the funniest people are the saddest ones. Robin Williams's highest grossing movies have received a lot of accolades over the years, earning millions around the world. In between all of this, we've been revisiting his genius by re-watching his stand ups, TV shows and movies. Let's honour his work by revisiting some of his best works of fiction:
Dead Poets Society (1989)
What's left to say about this marvelously powerful film? As the inspirational teacher at a 1950s prep school who teaches his students to "seize the day" and that poetry still has a lot of life lessons to impart. Not everybody loves the freestyle comic moments, true — to some, it's a mockery of what the study of serious literature is supposed to be about.

Goodmorning, Vietnam (1987)
Disc jockey Adrian Cronauer (Robin Williams) is assigned to take over the radio broadcasts. In contrast to the dull, by-rote announcers that have preceded him, Cronauer is a bundle of dynamite, heralding each broadcast with a loud "Goooooood morning, Vietnaaaaam," playing whatever records tickle his fancy (even those not officially sanctioned by his hidebound superiors), and indulging in wild flights of improvisational fancy.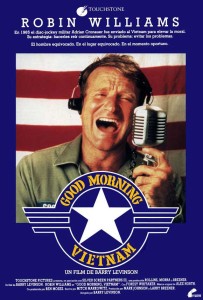 Good Will Hunting (1997)
Williams won his first and only Oscar playing the kindly psychiatrist who tries to get to the heart of the hurt and rage that's troubling Matt Damon's titular character. The role has gained in stature as another example of the actor's big-heartedness shining through to his onscreen persona- a very quiet character that is not the centre of attention. But that's also kind of the point. He's holding back for most of the movie. So at first, he has to do a lot of responding, and a lot of reacting, and then he lets loose with touching cinematic monologues.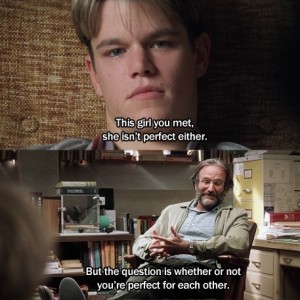 The Adventures of Baron Munchausen (1989)
 I think, therefore you is." He did a cameo appearance in Terry Gilliam's magical epic. Williams plays the King of the Moon, in a wild part that has his disembodied head talking about his high-minded powers of creation before realizing that the rest of his body is off elsewhere trying to do the Queen of the Moon. It's a short but memorable performance.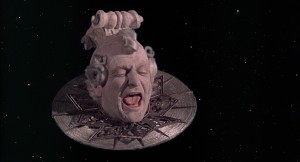 Awakenings (1990)
Based on a true story as related by neurologist Oliver Sacks, Awakenings stars Robin Williams as the Sacks counterpart, here named Dr Malcolm Sayer. Something of a klutz and naïf, Dr Sayer takes a job at a Bronx psychiatric hospital in 1969. Williams gives his best performance, shorn of all his marvelous show. The man he plays here is not a performer, which he was even in Dead Poets Society, but simply a man.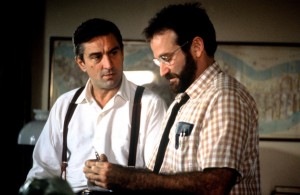 The Fisher King (1991)
Could this be Williams's greatest performance? Here, he plays a mad homeless man who used to be an academic who went off the deep end after his wife was brutally murdered. And, matched with the wit and vision of director Terry Gilliam, another funny man whose comic work dances with the horrors of the world, Williams delivers one of the most perfectly calibrated performances of his career: freewheeling in that way we know and love, but also speaking to a deep sense of loss. It's the comic as inspired madman, as wounded warrior.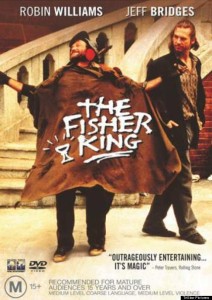 Mrs. Doubtfire (1993)
Daniel Hillard(Williams) is an eccentric actor who specializes in dubbing voices for cartoon characters. Daniel is a kind man and a loving father, but he's a poor disciplinarian and a shaky role model. In terms of plot, the film could be feeble, but sometimes there's more to a movie than story, and this is one of those rare occasions where you'll love the movie anyway.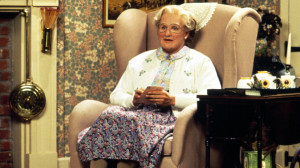 Jumanji (1995)
I remember watching this movie over-and-over as a kid on TV. In "Jumanji," Robin Williams plays Alan Parrish, a man who had been trapped in the board game 'Jumanji' for 26 years. Alan's adventures are hilarious, intense, a little dangerous and wonderful.