One of the most energetic,surprising,dramatic TV Series which was aired on Star World from 2003-2012 consisting of 9 seasons..It has lived through the writer's strike and the absence of two of their most popular characters.The series chronicled the lives of five high school friends living in the fictional town of Tree Hill,North Carilona. which they called their "Home".Lucas and Nathan are two young men with little in common – except for the dark secret that they share the same father. Their lives collided when Lucas Scott joined his half-brother Nathan's high school basketball team.. Nathan is the son of privilege and star of local high school team, while Lucas is the son of a single, working mother, Karen The initial enmity between the brothers, fueled by the influence of their parents, sparked a major confrontation between the two brothers.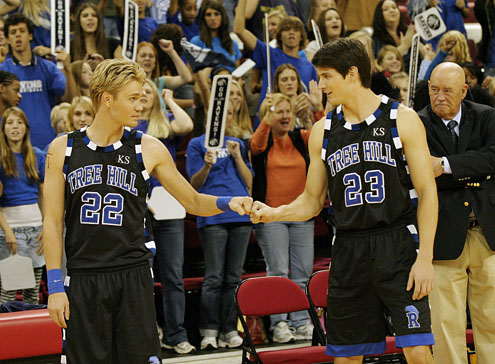 Lucas' best friend Haley James begin to fall for Nathan after breaking through his bad-boy image; Peyton Sawyer struggled to choose between her head and her heart when it came to Lucas – even more so when her best friend, party-girl Brooke Davis, had also fallen in love with the same guy. All the lives of the five teenagers and their friends collided and spectacle was certain to follow.
In season two,Peyton helps open a nightclub called Tric, and becomes involved with drugs and a teen dad named Jake. Haley goes on a music tour and Nathan falls into coma.In season three, Lucas and Brooke finally get together, Peyton's birth mother has cancer.In season four,Peyton is in love with Lucas and thus in a huge fight with Brooke.Haley turns out to be pregnant and is blessed with a son named Jamie.In season five, it's four years later, and Lucas wrote a book, Brooke is a fashion designer, Peyton is a music producer, and Nathan is partially paralyzed.Lucas asks Peyton to marry him.In season six,Brooke gets assaulted but doesn't want to press charges. Peyton thinks she has cancer but turns out just to be pregnant, and then she and Lucas get married. In season seven, it's a little over a year later, and Lucas and Peyton are no longer on the show.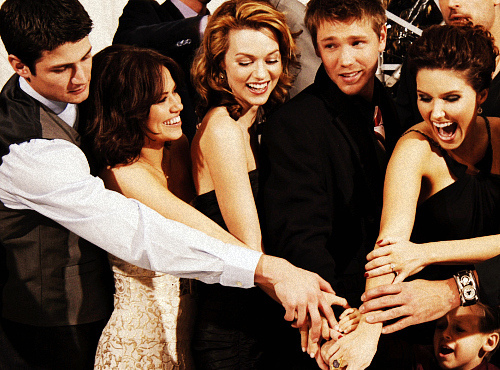 But everyone misses them! Brooke is with Julian, Haley gets pregnant again, and the story now involves new characters like Quinn( Haley's sister), Clayton, and Alex,especially when Clay and Quinn get shot.In season eight,Clay gets a kidney transplant, Brooke's mother disowns her, Brooke and Julian get married, Nathan retires from the NBA.Season nine talks about Nathan's abduction.Lucas also returns after Haley reaches out to Lucas for help.The series finale featured a time-jump, depicting the characters' lives five years in the future where Jamie is seen as 17 year-old playing basket ball.