There are several interesting ways in which you can discover television shows at times. By the end of this month all I could post, rant or fan girl about was this show I never thought I would love watching so much. As a result my social media profiles were flooded with nothing but loads of Mozart in the Jungle posts. Without a doubt it annoyed the hell out of those oblivious friends of mine who had to roll eyes and scroll past their news feeds which was littered with pictures of a certain Gael Garcia Bernal.
So basically Amazon Studio decided to air this show whose eye of the melodious storm is this fictional orchestra New York Symphony. That was back in 2014. I didn't even know about the existence of this show until it swept away major Golden Globes in 2016 including the Best Musical Comedy and the Best Actor in a Comedy or Musical Show. I decided to see for myself whether it lived up to the hype and boy, it totally did.
Colors Infinity, which is a fairly new channel on Indian television, aired this show and it ended up being worth binge watching. After eight long hours and two days, this is what I deduced from Mozart in the Jungle.
You don't usually see stories like this flying around often. Mozart is based on a 2005 memoir of an oboist Blair Tindall. Centered on the high profile scene of orchestras in New York, it gave us a clear, not so over the top and simplistic idea about the average life of undoubtedly realistic characters. The one thing that is not average is the way this story flows. Transitioning from one event to another in dreamy narrations, hallucinations, lots of Mozart and Bach and platonic romances it does take the viewer on an extraordinary trip to an unexplored world.
As we step into this realm we are introduced to Hailey Rutledge, a girl with whom most of the twenty-something crowd of women can relate to. Lola Kirke plays Hailey to decent perfection. Hailey is an oboist modeled on Blair Tindall herself and she has big dreams of kissing success in the field of music. She shares an apartment with her hippie tattoo artist friend by the name of Elizabeth and responds to the romantic attention given by a dancer, Alex Meriwether. Life is as normal as it can get infused with struggles, worries, parties and friendship. Apart from everything, Hailey wants to find her foothold in the classical music platform.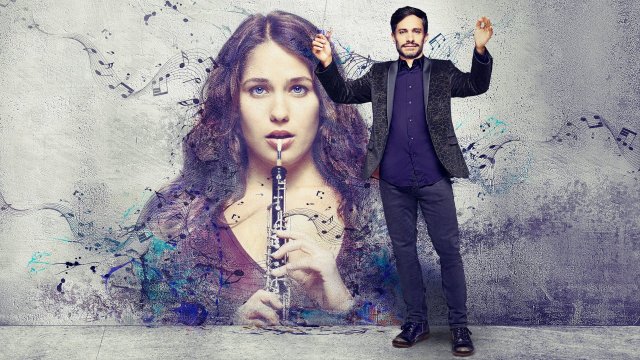 She strikes up a friendship with a vivacious cellist of the New York Symphony called Cynthia and pays her bills by giving oboe lessons to a kid.
Enter the whirlwind of eccentricities and charm in the form of New York Symphony's new conductor Rodrigo De Souza. Now honestly, it was the news of Gael Garcia Bernal playing Rodrigo that actually got me to watch this show in the first place but gradually, I learnt to enjoy the classical music as well. As conductor Rodrigo on "Mozart," he's sometimes frustratingly narcissistic, too creative for his own good, never thinking in reality because he's always subconsciously day dreaming of musical notes and yet, somehow always lovable.
As the veterans in the orchestra finds it difficult to deal with a whimsical, digressive and brash nature of Rodrigo, the show takes us deeper into battle between art and business, the struggles of a musician who wants to make it big and not to mention, the politics.
Rather than drowning you into a jargon of distance dramatic stakes this show gives you exactly what you wanted to watch for a long time but couldn't pin point it until now. Mozart in the Jungle isn't afraid to take liberties with its narrative trajectory nor does it rely heavily on exposition. This story sums up the fact that being a musician is one of the world's most prestigious jobs and yet it is just a job.
The brilliant forces working behind the camera are Roman Coppola, Jason Schwartzman, Paul Weitz and Alex Timbers. They deserve a round of applause from my side for successfully combining humor and drama out of the contexts that seem pretty specific to the community of orchestra.
Moving onto the life of this show which happens to be the splendid chemistry between Hailey and Rodrigo, I have so much to say. They never say they love each other and they never go anywhere beyond awkward kissing but you can feel the tension, admiration and mutual respect floating around them. At one point you just wanna throw your hands up in the air and scream- Just go get married already! Sorry to delivery the disappointing news but according to Rodrigo's grandmother that won't be happening anytime soon. Without a doubt you will enjoy their little tryst in Mexico where Rodrigo's grandmother provides the greatest comic relief in the show.
The second season shows us to Rodrigo's country as he enthusiastically ditches the rest of the orchestra and takes Hailey on a hearty trip around the city of Mexico. He reunites with the old maestro who made Rodrigo the man he has become and faces a dilemma.
Talking about the performances, every single one of them is worth winning awards and accolades. Whether it is Rodrigo with a surrealistic outlook and striking personality, Rodrigo's ex-wife Anna Maria who happens to be a literal mad violinist or the occasional appearances by Mozart and Beethoven in Rodrigo's matte induced hallucination, all the characters are impressive.
The show required Rodrigo to be comically eccentric and at times introspective at others and Gael Garcia Bernal ended up ticking all the boxes. I spent a good part of my teen years watching movies from all over the world and for those who don't know it yet, Gael is a big name in Mexican movies. He is one of those actors who don't have to put much effort to embody a character. His screen presence is mind blowing and so is the accent that can make any woman blush.
About the music, well they have plenty to offer. This will definitely please the classical music enthusiasts and well as those like me who seek a brilliant story which is well acted and scripted. The show lives upto their name as the beauty of music is unleashed in the midst of a concrete jungle. Yes, it touched the right chord for me.
Mozart in the Jungle will be remembered as a show full of memorable performances, beautiful cinematography, some epic dialogues and mostly for Gael Garcia Bernal for potraying the challenging role with sheer talent.
The grace of this show lies in its simplicity. Mozart in the Jungle looks good and sounds good so it better rise up from its underrated stage to gather much more fans in its fan club.