Cast:  Aamir Khan, Anushka Sharma, Sanjay Dutt, Saurabh Shukla, Boman Irani
Director:  Rajkumar Hirani
Spoilers Ahead
Rajkumar Hirani after delivering a well-aimed kick in the pants to our myopic, rote-learning education system in 2009's colossally successful 3 Idiots, the team returns with PK, a film with very big…ahem…testicles. Operating in a country famously over-sensitive about religion.
Aamir Khan child-man who poses impossibly innocent questions that sting, simply brilliant!
The actor has left no stone unturned to put in his best for this role. Anushka Sharma has a fairly important role. She looks gorgeous and puts in sincere efforts to entertain. Shushant singh with a small role but with important role give its presence on screen. Sanjay Dutt who we see in parts is fabulous.
The Scenes were rich in irony. It is a courageous film Packed with sharp dialogue and genuinely funny moments that offset the lack of subtlety. Which made to stand around and point fingers at the indulgently labored way as he makes a point.
There is a passage where we see Khan's PK going desperately from god to god, mosque to church to temple, seeking the way to his precious remote, festooned with more talismans than Saurav Ganguly's arm.
In lesser hands this would smell like an empty exercise in audience manipulation, a cheap and easy means to unearned applause.
As a cinematic send-up on Gods true and fake, PK pulls no punches at all and speaks its mind like a carefree child that has just learnt to talk and make sense of the world.
PK is out to provoke but not to shock
The film asks questions via its idiot savant protagonist, but does not attempt to deliver facile, absolute answers. And that makes it all the more effective. PK gives the lesson, not to bound god with human created boundaries as we cant give god to have a perfect definition as religion.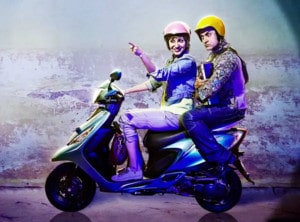 In search of the remote control device that he needs to summon his spaceship back to earth eventually sees him end up in India's capital city.
It also comes up against a rapacious Godman who is responsible for thwarting Jaggu's (Anushka Sharama) marriage with her Pakistani boyfriend Sarfaraz Yusuf (Sushant Singh Rajput).
The girl, befuddled by the long-eared stranger's unpredictable and inexplicable powers and saddled with the 'breaking news' of a suicidal puppy, sells the story to the channel boss (Boman Irani).
But the screenplay weakens post intermission, when the stage is set for a (televised) confrontation between PK and smarmy godman Tapasvee (Saurabh Shukla). Hirani lays it on thick in these portions, and to be fair much of this territory was covered already in the Paresh Rawal starrer Oh My God. Moreover, the entire climax is hinged on a plot contrivance that sticks out in an otherwise compelling film
Rajkumar Hirani always had a different point of view from Munna Bhai MBBS about the medical system, in Lage Raho Munna Bhai about Gandhi and Gandhigiri and in 3 Idiots it was Rancho doing his own number and questioning the education system. Now Rajkumar Hirani takes on the much hyped Godmen in India.
Do watch out for Ranbir Kapoor – a little icing on a cake so appetizing that it will have you clamoring for more. But it's a must watch film tells you the world from a different aspect and awakes you from what you have just accepted instead of thinking over it.
Think like pk!!
Also Read: Hirani's Movie P.K. About "God and Godmen"