A number of great films have used casinos as their central location and theme. And, why not, casinos are inherently spectacular places, serving only to give the cinematographer more to work worth. As to which the best casino films are, is really a matter of opinion but there is no doubt that some masterpieces have used the bright lights and roulette wheels to great effect. Here are three of arguably the best casino films of all time, in no particular order.
Rain Man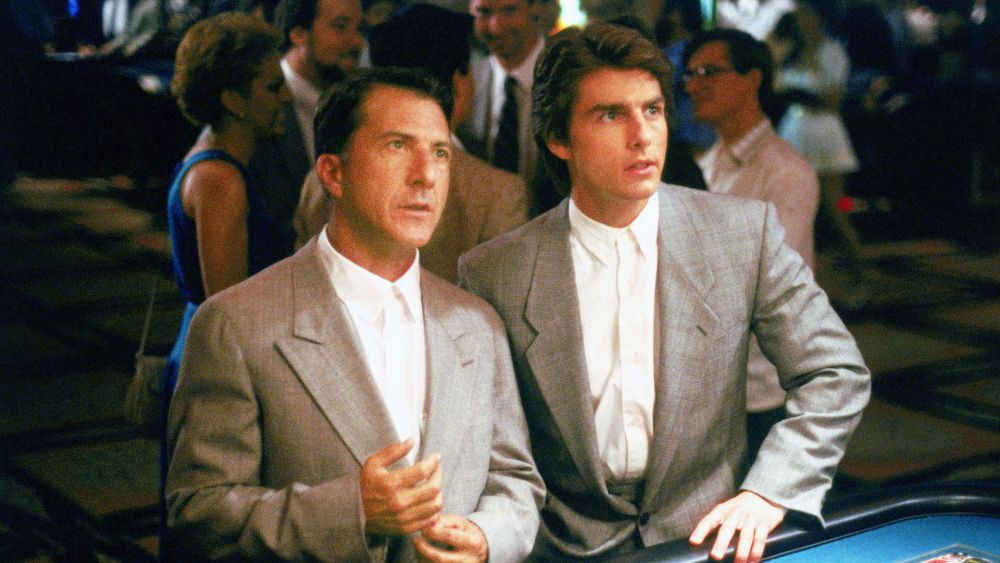 Raymond Babbitt in Rain Man is one of the celebrated and beloved characters in all of cinema history. Dustin Hoffman has received endless praise for his portrayal of the autistic savant character, and is known to have spent much time with real savant, Kim Peek, to nail the performance. The scenes that take place in Caesars Palace, Las Vegas, are really only a small part of the movie, but tend to be the aspect that people remember the most.
Charlie Babbitt, played by Tom Cruise, takes Raymond to Caesars Palace, planning to cash in on the Savants amazing mental abilities. Naturally, Raymond cleans up at the blackjack table, having an extraordinary memory that makes him a card counting genius. It's a wonderful moment that will put a smile on almost anyone's face, regardless of the fact that the two are quickly ejected from the casino for cheating!
Interestingly, the casino scenes in Rain Man were shot at the real Caesars Palace in Las Vegas, a landmark casino that is very well known and respected. Raymond and Charlie get off pretty easy in the film, despite being caught basically red handed. One wonders if the real Caesars Palace would be so lenient, or if Raymond should have tried his luck at online casinos instead.
Casino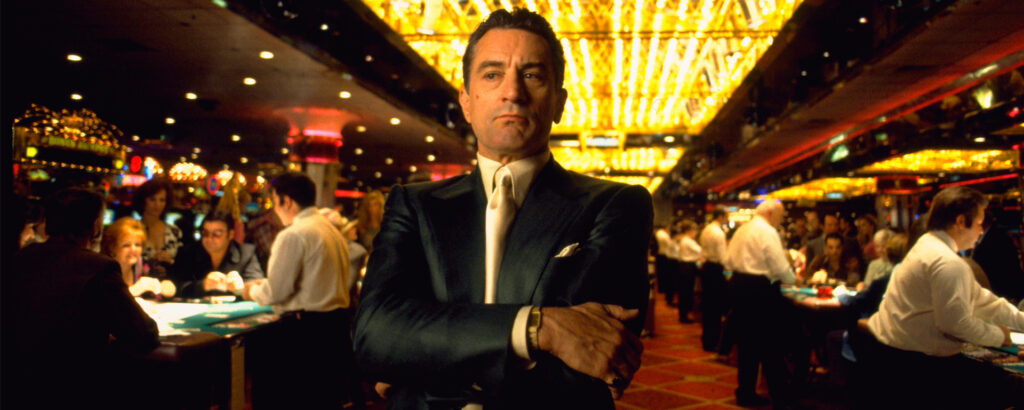 Casino is not what you would call the most uplifting film ever made. It tells the highly troubling, but very realistic tale of Sam "Ace" Rothstein, who is called by the Italian mob to oversee operations at the Tangiers Casino in Las Vegas. There are many scenes in the film that are enough to make a person cringe in horror, but ultimately, the portrayal of a Vegas-based crime syndicate is about as true to life as you could ask for.
Casino was shot at the real Tangiers Casino itself, as well as a number of other famous real life Las Vegas locations, making it a veritable tour of the stunningly beautiful area. Some of the locations include the Le Bistro Lounge in the Riviera Hotel and Casino, as well as the widely known Bally's Casino Resort.
Oceans 11
The Oceans 11 remake stars many famous faces, telling the story of a gang of quick witted, fast mouthed thieves who pull off an epic casino robbery. Loaded with light hearted comedy and clever dialogue, there are few who didn't love this charming film.
The Oceans 11 remake was shot largely at the real life Bellagio Casino and Hotel in Las Vegas, which is showcased throughout the movie. It goes without saying that the casino was probably incredibly grateful for the publicity, even if it was shown as blatantly robbed by thieves. It is likely a lot more difficult to rob the real Bellagio, however, even if you are George Clooney and Brad Pitt.