Bollywood actors try their level best, in experimenting vivid looks and body stature to deliver their best shots.There is no doubt that, in a race to gain more attention and aggregate new box office records, they seem to lose track with the audience and of course, acting.
During the culminating days of golden era, slightly before the rise of Amitabh Bachchan and Rajesh Khanna to stardom, Bollywood had their very first boy next door, who took it on himself to woo the now-grandmothers, with his ignorant alacrity and winsome articulation. With a flair for performing arts flowing through his veins, Shashi Kapoor, born Balbir Raj Kapoor a.k.a Handsome Kapoor shot to fame in the Indian film scenario in the year 1961, with Yash Chopra's Dharamputra.
Son of legendary Prithvi Raj Kapoor, and the youngest one amid the Kapoor brothers, Shashiji was born on March 18, 1938 in Calcutta (now Kolkata).He was first cited on screen as a child artist in 1948, in elder brother Raj Kapoor's Aag, portraying his elder brother's younger days.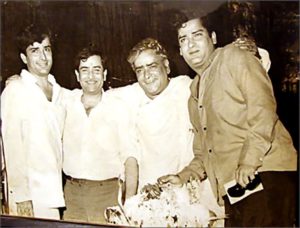 Shashi Kapoor joined his father's theatre company Prithvi Theatre, while he was growing up and delved himself in plays, tours and stage performances alongside. Also, he worked as an assistant director in Dulha Dulhan and Shreeman Satywadi, starring elder brother, Raj.
Following his debut in 1961 with Dharamputra, many of his films couldn't do well well at the box office, although his performances caught attention and were acknowledged. He was thus, proclaimed a jinx. However, the winds changed with Jab Jab Phool Khile in the year 1965, which starred Nanda opposite Shashiji, and helped another Kapoor, to lure masses to the movie theatres. This super hit duo went on to deliver many other successful films like Rootha Na Karo(1970), Raja Sahab(1969), Neend Hamari Khwab Tumhare(1966) to name a few.
By this time, Shashiji already rose to fame just like his elder brothers and was paired with prominent female actors like Rakhee, Sharmila Tagore, Zeenat Aman, Hema Malini, Parveen Babi and Moushmi Chatterjee catering the main event.
Also this was the time, when the angry young man of Bollywood, got a male counterpart, who could complement his innocence and animations with Bachchan's then persona. The duo went on to give some memorable hits like Deewar (1975), Kabhie Kabhie (1976), Trishul (1978), Suhaag and Kala Patthar (1979), Do Aur Do Paanch and Shaan(1980) being some of them.
By the arrival of 1980, Shashi Kapoor started to play character roles and under his banner produced cult classics like Junoon, Kaliyug, 36 Chowringhee Lane and Utsav.
Shashiji married British actress Jennifer Kendall and believed her to be his biggest inspiration. They together have three children Karan, Sanjana and Kunal Kapoor. They got married in the year 1958, and the tragic demise of Mrs. Kapoor made Shashiji distant for a while from diurnal operations.
From being a child artist to working in theaters, being called a jinx to working with most decorated names and contributing to cinema immensely, Shashiji's illustrious career involves working in over 175 Hindi films and some of his ventures in English. A pool of pedagogy dealing with practicalities of film craft, his career is a testimony of dedication and perseverance, making Shashiji's contribution to Indian cinema undeniable.