"They say everyone's born a hero. But if you let it, life will push you over the line untill you're the villain. Problem is, you don't always know that you have crossed that line. Maybe it's enough that the world thinks I'm a hero." Jessica Jones. Marvel never fails to show us the side effects of a being a superhero but Jessica actually manages to say it out loud, " With great power comes great mental illness." Jessica Jones is one such character with a troubled past, "anti-hero" personality and PTSD "Humanity sucks and they don't deserve saving" she says and with her anger management issues well guess she just another kid who have grown up with bad past. Jessica jones shows us the darker side of being a hero and sometimes trying not to be a one.
Jessica Jones loves challenging men and social norms and she is a perfect example of strong, beautiful and independent who knows her way around. She is bold, badass and vulnerable (which makes us love her even more) with a sarcastic sense of humor and ability to crack jokes under any circumstance. She never spoils the fun. Just not her strength but her one liners never seems to disappoint. Jessica is not excatly a cold hearted person but still she is trying to be a better person (not sarcastically mean).She can do anything for the people she loves (specially her sister Trish). She has a thing for being called a bitch. By the way never randomly drop by she hates uninvited guest unless you have a bottle of whiskey she won't mind that. She also is a private investigator and very good at her work. Trust me she is the best!She is also associate and only owner of the Alias Investigation. But as she say her only weakness is occasionally she gives a shit!
Jessica got her powers while she was being treated and experimented by IGH (a secret organization) after her accident where she lost her whole family. Between learning to living alone, running from her past and fighting the world the whole drama unfolds. Jessica Jones has a strong script, storyline and very powerful dialogues. The series runs really slow taking sharp turns with Jessica exposing secrets after secrets which only get you more and more hooked. The series takes a lot of patience but is very rewarding. If you are a thriller, investigation, psych and crime fan it is highly recommended.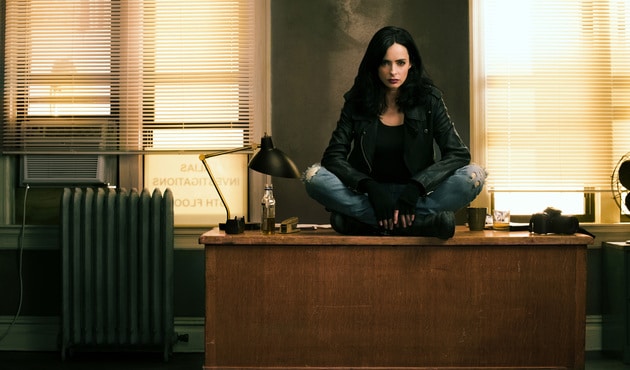 Season 1: The episode starts with Jessica trying to "live a normal life" and working as private investigator after her superhero career gets over. But her life turns upside down when she meets a psychopath killer Killgrave from her past who shares superpower with her. Now she is stuck to face her past again with a little help from her friend Trish, helping Malcolm (her neighbor) and obviously a little romance with Luke Cage (also a former hero). The season is piled up with investigation, thriller and suspense.
" It's 5 o'clock somewhere and I need to update my resume. Would you put 'day drinking' under experience or special abilities?" Jessica Jones.
Season 2: The second season doesn't seem to disappoint at all the bond between Trish and Jessica gets stronger. Malcolm tries to help Jessica with Alias investigation but keeps getting fired. But now as she is trying to get back to normal Trish again brings her past now she have questions about herself. She is
trying to figure out secrets operations being carried out by 'IGH' and everything that happened to her after the car accident. In the end of the story have taken clean turns the suspense and drama are literally worth everything! this season you will be leave you in 'awe' and hella lot of emotions to handle.
"Bad shit happens everyday and every single goddamn person has the power to do something about it." Jessica Jones.
The show is a combo pack and definitely worth your time.It is available on Netflix. It has already released two seasons and announced to be renewed for season 3 but the dates haven't been out yet. So, Jessica, we are desperately waiting for your return. Tell me what are yours in the comment section down below I would love to hear that.